canned peaches put to use in a summer solstice-themed cake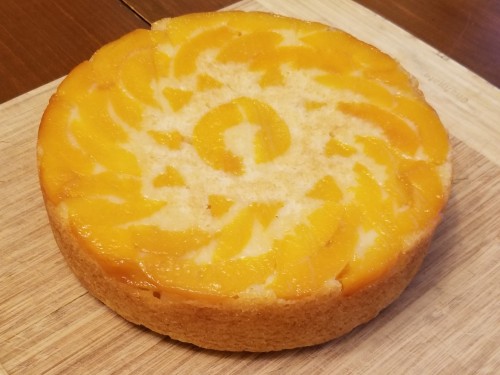 kitchen notes - peach upside down cake
15 oz  canned peach slices in syrup
  2 C   all-purpose flour
  ¾ C   sugar
  1 T   baking powder
  ¼ tsp baking soda
  ⅛ tsp salt
  ½ C   syrup from canned peaches
  ⅛ tsp fresh lemon zest
  ¼ C   lemon juice
  ¼ C   coconut oil
  2 T   vegetable oil

> cut circle in parchment paper, laid down in 8in round cake pan. laid out peaches, sliced some. mixed dry and wet ingredients separately, then combined. batter was thick and had to be spread in pan with spatula. baked 35min 340°F. waited 1hr to invert, depanned cleanly without effort.
After searching around for what to do with a single can of peaches in syrup that I found in the cabinet, I came across an upside down cake, and thought it would work beautifully for the solstice. Inspired by the Little Swiss Baker to add lemon to the cake but using the Plant Based School's recipe as a starting point.
It turned out to be a tasty cake — a pleasant enough crumb, not too dense though on the firmer side. Released beautifully from the pan, though the wrinkles in the parchment paper did show unflatteringly in the peaches.