perfectly tart and sweet, with an even ratio of shortbread to filling
made for father's day and everyone enjoyed it! someone even asked for the recipe, which is why this even got written
recipe - lemon bars
--- crust ---
1 ½ C   all-purpose flour
  ½ C   sugar
  ¼ tsp salt
  ½ C   coconut oil
  2 T   water
--- filling ---
 12 oz  extra firm silken tofu (e.g. Mori-Nu)
  ¾ C   lemon juice (incl. 1 freshly juiced)
  1     lemon, zested
  2 T   cornstarch
  1 C   sugar
hint of turmeric, for color (optional)

> line a baking pan with parchment paper. (i used 9in x 13in, but smaller is probably ideal.) mix all the dry ingredients for the crust, then the oil, then the water as needed. the dough should stick together and be smooth when pressed. press the crust into an even layer in the pan. bake for 20min at 350°F.
> combine all filling ingredients in a blender or food processer. (it may be wise to dissolve the cornstarch in some lemon juice before adding, to prevent lumps.) pour filling into pan, then bake an additional 25-30min, still at 350°F.
> let cool and set for a couple hours before removing from pan and slicing.
The baking times can probably be reduced to no great effect, at least with such a thin layer. The edges caramelized and burned when I made this, but all the center was fine. I would also be interested in increasing the filling layer, but mostly on the grounds of texture. The current flavor ratio is good as is.
The coconut oil I used was different than I anticipated – it was mostly solid but pourable, which I have not experienced previously. I think a liquid oil or solid fat could be substituted easily, just adjust the water. This recipe may even be forgiving towards tofu firmness and type, though the strength of one's blender may need to compensate for non-silken.
Crust based on Holy Cow Vegan's coconut shortbread recipe, filling based on My Darling Vegan's and Namely Marly's recipes.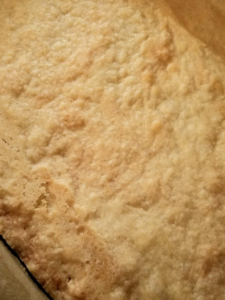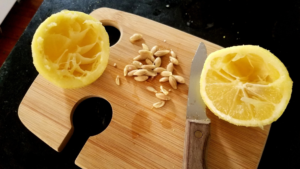 Final note: don't underestimate how many seeds are in a lemon.