I finally made black bean brownies with no sodium beans — cooked them myself. And they turned out great! Gluten free and allergy friendly — recipe adapted from both versions by Ambitious Kitchen (2016, 2012). This was sweet enough for my taste, though a friend didn't agree, so if you like things in the sweeter side, take that into account.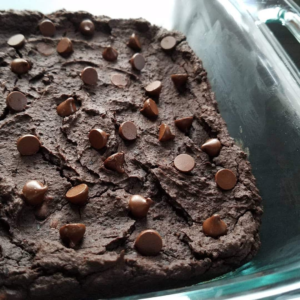 kitchen notes - black bean brownies
    1     flax egg (1 T ground flax seed + 3 T water)
1 3/4 C   black beans, no sodium
  1/2     avocado, medium
  1/2 C   sugar
 3.85 oz  90% chocolate
  1/4 tsp baking soda
  1/4 tsp baking powder
  1/4 tsp salt
  1/3 C   chocolate chips + 2 T for sprinkling

> preheat oven to 350°F. grease 8x8 baking dish. prepare flax egg in the bowl. add black beans and avocado to blender and blend until smooth. add flax egg and sugar. melt chocolate in the small bowl and add to blender, along with remaining ingredients, excluding the chocolate chips. blend until homogeneous, and stir 1/3 c chocolate chips. pour into dish and sprinkle remaining chocolate chips. bake for 25-35 minutes, or when a knife comes out clean.*

* Note: I use the turn off the oven and leave method because I'm a busybody who has chunks of time here and there, and I don't want to leave the oven on when I'm not home. I think I baked these at 350°F for 25 minutes and then shut the oven off.