I overcooked a pound of beans, and so of course that means they're going into a dessert. I briefly looked at a few recipes but wasn't thrilled, and having made both black bean and red lentil brownies before*, I figured I'd just ad lib with these — I went a little more off-beat than usual, and of course multiple people wanted the recipe, so here's an approximation.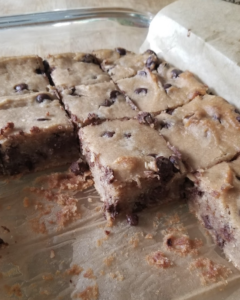 kitchen notes - white bean blondies
 28 oz  white beans
1/2 C   coconut milk
1/4 C   oil
  1 T   apple cider vinegar 
  1 tsp vanilla
  1 C   all purpose flour
1/2 C   whole wheat flour
1/2 C   brown sugar
  1 tsp salt
  1 tsp baking powder
  1 tsp baking soda
  1 C   chocolate chips

> combine white beans and wet ingredients in blender. mix dry ingredients sans chocolate chips in a bowl and then mix in wet ingredients. mix in chocolate chips. line a 9x13 with parchment paper, pour in mix, and spread as needed. batter should be the consistency of thick cake batter. bake at 350 until golden brown and a knife comes out clean (30min?)
Not sure if it was just my nose, but I didn't think the beans smelled particularly appetizing post-cooking. I forgot to season them, which was to my advantage for adding to a dessert. In an effort to hide the taste of beans, I opted for non-neutral versions of a few ingredients, including whole wheat flour and coconut milk.
It would have been nice to go in the caramel and date direction. Christine on No Meat Athlete describes the problem of flavor with vegan blondies fairly well and has a promising recipe. I didn't go in that direction for lack of convenience, but if prompted in the future, I might.
People didn't guess that there were beans in these — they also weren't the best blondies anyone had had, but it was in the range of decent vegan baked goods and people appreciated the low sugar content.
These should probably be stored in the fridge — they're fairly moist. Mine unfortunately molded after a week on the counter, though there was only one left at this point, so not a huge loss.
* I forgot that I had made red lentil brownies until the write up of this post.